Dear parents,
Please see some notices for your attention.
Rollaithe 2022/2023; Enrolment 2022/2023
Some parents have been in touch regarding enrolment for next year.  We will be accepting applications for enrolment from the 14th January 2021 to the 29th January inclusive. Application forms will be posted on our website on January 6th .If you have already been in touch regarding enrolment we will send you an application by e-mail in the coming weeks.Parents should note that you will need your child's original birth certificate to accompany the application. Please pass this message on to any intending applicants.
Imeachtaí na Nollag: Christmas Activities
We're delighted to have some great news . The school is alive with music, dance and song. Our teachers and children are busy preparing music and drama for Christmas. Although this has been a real challenge with social distancing, singing in ventilated areas, masking etc we know that the children are having great fun. We hope to be able to put the recordings together for parents and make them available before Christmas.
Our thanks to Christy  for setting up our school crib. We thank Ms. Greene for putting up the wonderful decorations  around the school.
The Parents' Association committee are very excited to announce that Santa will be visiting the school on Friday 17th December .I wonder what mode of transport he will choose this year? Children may wear a Christmas jumper instead of a tracksuit top, if they wish on the day. The school calendars have been printed.The Parents Association committee wish to sincerely thank Mr. Aaron Leavy Photographer & Ms. Aine O'Reilly of Aine Graphics for their  assistance in producing the school calendar. The calendars are €10 and will be available to purchase through Aladdin this week.
Face Masks for 3rd to 6th classes; Mascanna Aghaidh 
We would like to thank parents for their cooperation with this public health measure. Our children have adapted quickly to the new routine.
Christmas Shoebox Appeal;Bailiúchán bosca brg
Thank you so much to the pupils and families who donated to The Shoebox Appeal .Every single box collected is another child who will receive a gift this Christmas!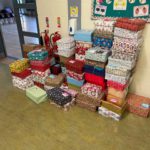 Chomaoineach; First Communion
Third and fourth classes made their Communion on Sunday 28th  November in St. Paul's church in Emo. Fr. Dooley and Fr. Joe said the masses. Our thanks to Ms. Maher, Mr. Slevin and Ms. Casey for their involvement in the ceremonies and the prepartion of the children for the day.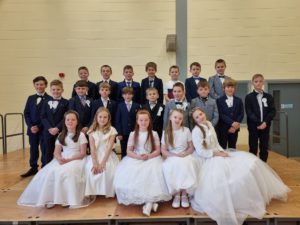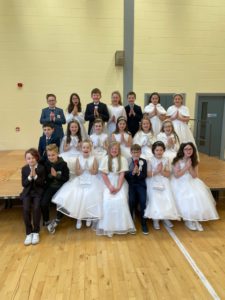 Crann Cuimhneacháin; Memory tree
In November we remembered in a special way the people we know who are not with us any more. We set up two memory trees one upstairs and one downstairs and the children placed the names on the tree. Each week we remembered them at assembly and in our class prayers .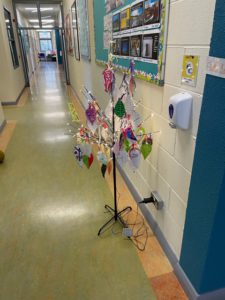 Cruinnithe  Tuismitheoirí/Múinteoirí : Meetings with Parents
We thank all parents for their participation in recent parent teacher meetings over the phone. Our teachers found the meetings very informative and we hope that you did too. If you have a particular concern outside of the normal parent-teacher time regarding any aspect of your child's progress please use Aladdin to send a message to your child's teacher.
Kind regards,
Cyril Duggan
Príomhoide