Dear parents,
Please see some important notices for your attention.
Féilire na scoile
Sponsored Walk will take place on this Friday 7th October at 1.30p.m.We hope you can join us on the day which will consist of a short walk through the woods followed by a BBQ at the school. This is an excellent opportunity for parents to meet and get to know each other, especially in light of the previous restrictions. Participation sponsorship is charged at €5.00 per family and includes BBQ food, all donations are requested through Aladdin portal. The walk groups will be released in stages on the day starting with the younger classes. We look forward to seeing you all on the day.
First Friday mass will resume on this Friday, October 7th at 9.15a.m. in the church. All our classes from 2nd to 6th class will attend and participate in the mass . Parents/ grandparents are more than welcome.
First Communion and Confirmation Dates: 
Confirmation will take place on Friday 10th March at 11a.m. in St. Paul's Church in Emo.
First Communion will take place on Sunday 30th April at 11a.m. in St. Paul's Church in Emo.
First Confession will be Wednesday 8th March at 8p.m.
Homework Club 
Homework club recommenced yesterday, 4th October.  It will be supervised by Ms. Maher, Ms. Lewis, Ms. Murphy and Ms. Boyle. If you have any queries, you can contact Ms. Maher at msmaher@emons.ie
Health and Safety Reminders
We thank parents for continuing to respect the drop off and parking procedures outside the school and request that you ensure that childminders and grandparents know the procedures as well.
Pupil Attendance 
Our current enrolment is 214. The attendance for the school year 2021/2022 was 91.2%. We had three pupils with full attendance last year. Well done to : Robin Mitchell Leavy, Elliott Sower and Jessica Dwyer.  The attendance for this school year so far is 94.% and there are 84 pupils with full attendance to date.
Child Protection and Anti- Bullying
Should you need to report a child protection issue The DLP (Designated Liaison Person) for the school is Cyril Duggan and the deputy DLP is Noel Costelloe.
Curriculum 
New Primary Language Curriculum  
Our teachers are continuing to engage with the new Primary Language Curriculum. The school will close for in-service @12p.m on Wednesday 16th November.
School Lunches /Healthy Eating/ Labelling school coats and tops 
We have a healthy eating policy in our school. We recommend sandwiches, fruit and healthy snacks. Out of fairness to all children we request that parents adhere to this policy. You can view the policy in full on www.emons.ie. With swimming and sports in the school , you can appreciate that tops and coats go missing regularly. Please put a name label on coats and tops.
Educational Visits
The children in fourth class enjoyed their Cycle Safety lessons over the last few weeks. Once again we are delighted that this initiative is supported by our Parents Association.Our swimming lessons are continuing in Portarlington pool and our Parents Association are also generously supporting these lessons to offset some of the cost.
Student Council
Ms. Casey held a meeting of our Student Council recently. They will be busy making suggestions and discussing the important school issues of the day. The Student Council for this year is as follows:
1st Class:
Martin Kelly
Fia Ní Chomhraidhe
2nd Class:
Billy Maree
Anna McCarthy
3rd Class
Michael Cosgrove
Katie Ryan
4TH Class
Dan Carroll
Katie Moore
5TH Class
James Cosgrove
Aoileann Ní Chomhraidhe
6th Class:
Glen O'Connor
Ava Murphy
Sports
Cumann na mBunscol matches are continuing and we have four teams participating in the boys' and girls' competitions. Well done to all the boys and girls involved and our thanks to Ms. Casey, Ms. Boyle , Mr. McEvoy and Mr. Costelloe for coaching the teams.
Comhghairdeachas


Congrats to Ava Young who was in 6th class last year. She recently received a commendation on her submission for the Texaco Art competition last year.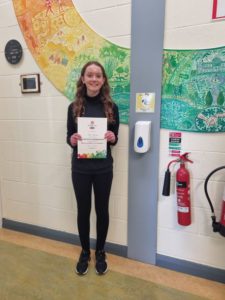 Siniú,
Cyril Duggan
Príomhoide