Dear Parents,
We are nearing the end of another busy term this week and we have some important notices for your attention.
Féilire na Scoile: School Calendar
The school will close at 12.30p.m. on Friday, 8th April  for the Easter holidays. The usual arrangements will apply. Junior infants and senior infants  along with brothers and sisters will leave at 12p.m. All other children will leave at 12.30p.m.The school re-opens on Monday 25th April.
The Parents Association have decided to postpone the Cake and Book Sale to after the Easter holidays.
Cumann na mBunscol 
Both boys' teams have reached shield semi- finals on this Thursday in their respective football competitions . The games will take place in the Centre of Excellence , Portlaoise at 11a.m and 12p.m. Boys B team will play Holy Family at 11a.m. and the A team will play Ballyadams at 12p.m.
Cóineartú ;  Confirmation
Congratulations to the children in sixth class who made their Confirmation recently. Bishop Denis Nulty attended the ceremony and had some lovely words for the children. Our thanks to Mr. Slevin, Fr. Dooley and  Fr.Joe for their help preparing the children. Also, our  thanks to Mr. Costelloe,  Ms.Deffew and Ms. Greene for their work with the choir.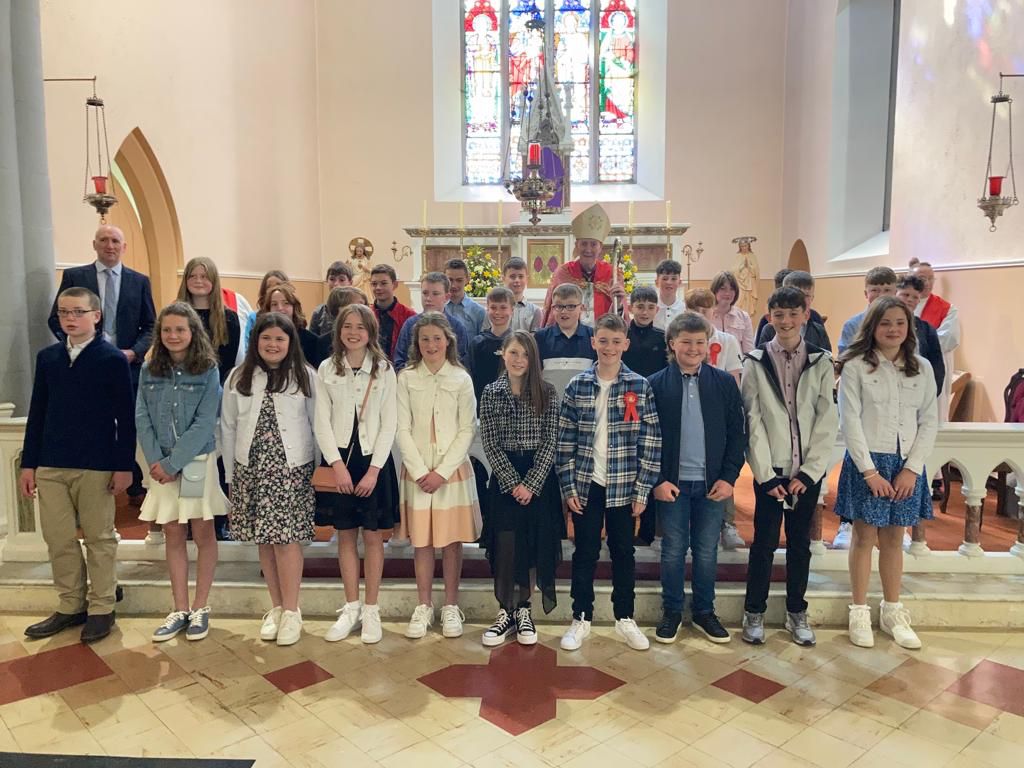 Naíonán Shóisearacha; Junior Infants
We have enrolled 24 junior infants for the next school year and fifteen new families. They are all very welcome to our school and we were delighted to meet them last Friday in the school.
 Bluiríní;Snippets
The attendance for the school year so far has been 91% .
3rd Class are taking part in the BLAST art programme and are working alongside environmental artist Annie Holland. Annie has been teaching the children about the importance of looking after the environment through art. So far they have made clay tiles with pictures of native Irish plants, prints of natural items found in the school yard, monoprints of their self portraits which they are making into environmental superheroes as well as Planet Protector badges! The children are thoroughly enjoying the project.
Siniú ,
Cyril Duggan,
Príomhoide